Encompass HK specializes in curating SDG experiential-learning workshops and experiences for its clients. We provide bespoke training that includes pre-event introduction and post-event surveys to achieve defined training goals.
Some of the bespoke programs we have curated include:
Whole-day SDG training program using The University of Hong Kong as a SDG model  to develop normative, collaborative, critical thinking competencies for middle managers;
Beer, chocolate and challenge – a fun filled and engaging workshop to recruit male allies on gender equality;
LGBT+ inclusive language workshop – a lunch-and-learn session on practical tips on using LGBT+ inclusive language in the workplace;
Diversity and inclusion in HK workshop – an overview on the D&I issues in HK and how companies can contribute to enhancing D&I in the community;
Responsible consumption and biodynamic wine tasting – using biodynamic wine as an example of conserving the environment with responsible consumption;
System thinking workshop – using food waste as an example, practise system-thinking skills to explore and build the competencies needed for SDG 12 commitment to change the understanding, attitudes and behaviors towards responsible consumption and production.
We also provide turnkey Experiential Learning Workshops for corporations, organizations and education institutions:
Music therapy & mental health awareness (Singing bowl, breathwork)

Eco field trips & clean-ups

(Marine, Heritage, Biodiversity, STEM)
Sustainable tastings & responsible consumption (Coffee, Wine, Beer)
Sustainable food & farm-to-table meal (Urban farm tours, composting, kombucha)
Zero-waste, recycling & circular economy
Climate change and Wine/Coffee

Systems thinking 
Our clients include SWIRE properties, Jardines, Schroders, ANZ bank, Freshfields, Manulife, Weil, Gotshal and Manges, among others.
Encompass HK offers educational talks on topics ranging from design and systems thinking to circular economy and doughnut economics. All the workshops can be tailor made to your particular needs and interests.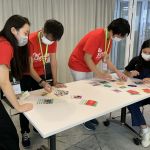 Encompass HK climate change workshops offer an interactive and engaging way to understand important sustainability topics such as climate justice, HK biodiversity and sustainable consumption.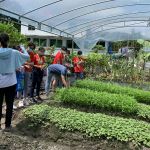 Educational eco-tours combine elements of nature, geology, ecology, sustainability, culture and heritage and are led by experienced guides. It's a great way to see a new side of Hong Kong!