Teenagers like to think they know everything about, well, everything. Ask us about TikTok or KPOP or the pros and cons of online learning (thank you Covid-19!) and we'll definitely have you covered. But as I was cruising out to Tung Ping Chau on an Encompass HK ecotourism trip in late June, I realized, perhaps like most Hong Kongers, that I knew essentially nothing about Hong Kong's natural history and even less about its geology, which, our guide San explained as we motored across glassy waters in Mirs Bay, dates from the Mesozoic era. Most self-respecting kids can tell you that dinosaurs like Stegosaurus and Velociraptor stalked the earth during the Mesozoic age, but it was cool to think that those giants were living when the spectacular rock formations of Tung Ping Chau were formed by volcanoes that later disappeared into the sea where we were now sailing.
Hong Kong's easternmost island, Tung Ping Chau is a tiny pebble (measuring only 2000m x 600m ) facing Shenzhen and China's huge land mass, but as part of the Hong Kong UNESCO Global Geopark, it takes its deserved place in a vast territory of geological wonders and cultural sites of interest. Hong Kong is renowned for its biodiversity, boasting 1000 animal species, including 550 species of birds and 240 species of butterflies. But its spectacular geology is less well-known, an oversight that the Geopark means to rectify with the help of local communities who manage the park's territory with traditional know-how. One of those communities is Lai Chi Wo, a traditional Hakka fishing village not far from Tung Ping Chau that I also visited with Encompass HK.  

Ping Chau means "flat island" as San reminded us, and despite its lack of elevation, the low crescent of land where we disembarked did not disappoint.The island is famous for stunning natural sculptures made over centuries by wind and waves that visitors can scramble over, climb and of course use as backdrops for amazing selfies. Among these, my favorites were Cham Keng Chau and Kang Lau Shek. 
Cham Keng Chau is a mass of rock that was originally part of Tung Ping Chau but is now separated by a narrow gorge. Walking through the canyon, we learned from San how the two land formations were split apart over centuries by just the unrelenting abrasion of water: a perplexing thought when gazing at the 45m tall cliffs. This feat of nature lends itself to crazy and captivating photos, and our group couldn't resist a Jump Shot. It is Kang Lau Shek, however, that is the island's most famous natural wonder. This group of two tall sea stacks, measuring about 8m each, sits atop a wave-chiseled platform, where small pools of water form and wash away with the tide.  San told us that if you sailed out into the ocean from that spot, you would not meet a single piece of land until you got to Hawaii! 
After a hot day of discoveries, we cooled off at the beach. Tung Ping Chau is also home to some of Hong Kong's most diverse species of corals (65 species), and swimmers can easily see them with basic snorkeling equipment. Preserving the reefs and their unique marine ecosystem is one priority of Encompass HK's commitment to SDG 14: Life Under the Sea.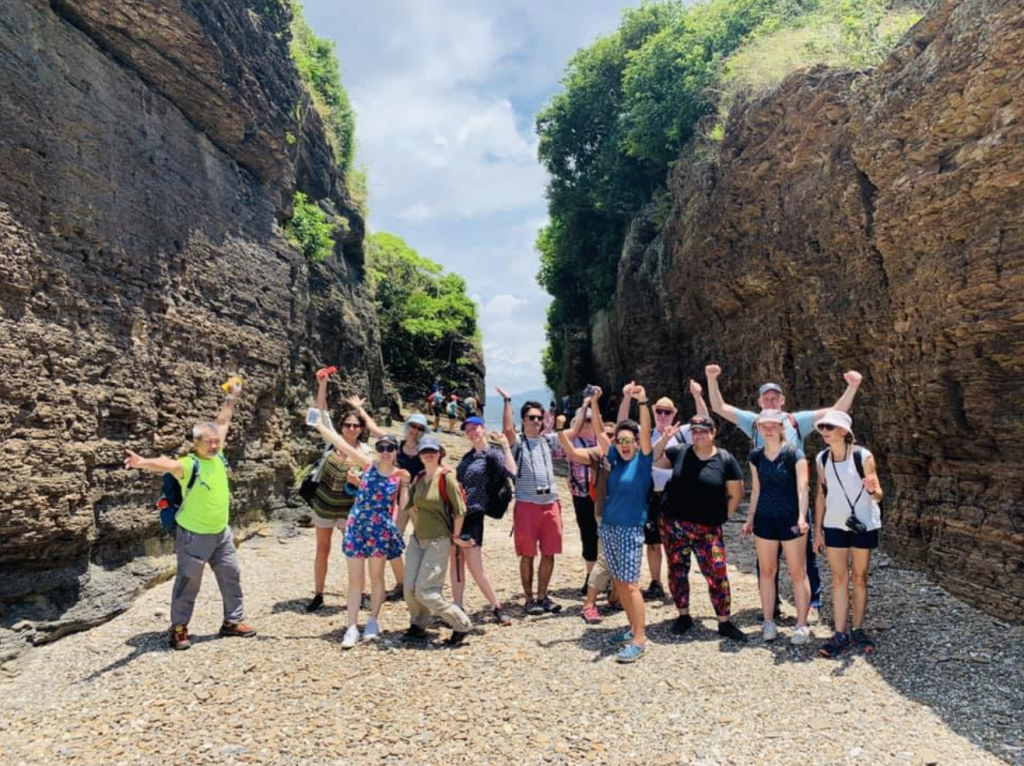 The Lai Chi Wo Tour revealed a different, more local side of Hong Kong to me. Lai Chi Wo is a 400-year old Hakka village that is working successfully to preserve its traditional way of life, farming practices and stewardship of the land, and sharing its history and centuries-old knowledge with visitors. I was excited to see how this industrious community had revitalized after many years of decline.
 After stepping off the ferry, we made our way to Mui Tze Lam, a tiny hamlet nestled on a mountainside above the bay, where we visited a small gallery and saw hand painted murals, both of which speak to the residents' desire to attract tourists to the area. After our visit, we walked back through the wetlands to Lai Chi Wo, a village founded on feng shui principles that have preserved the natural landscape.  We first had lunch in a local restaurant, and then we  were welcomed into two homes, to attend  Hakka dumpling-making classes. While we rolled the small pastries, we learned about the villagers' lives over the centuries, and how many recent generations emigrated to the UK. After our  dumplings were sent to the kitchen to cook, we took a walk through one of the oldest surviving feng shui woodlands in HK, where we saw an enormous "5-fingered" camphor  tree, where local women resisted the Japanese occupation of their village in WWII. Lai Chi Wo undoubtedly has many stories to tell, but it was time to get our dumplings and enjoy them on the ferry ride back to Ma Liu Shui, Gliding past the sculptured headlands of Double Haven, the red rocks of Chek Chau and the oldest rocks in Hong Kong on Bluff Island at sunset was a beautiful way to end a fascinating day.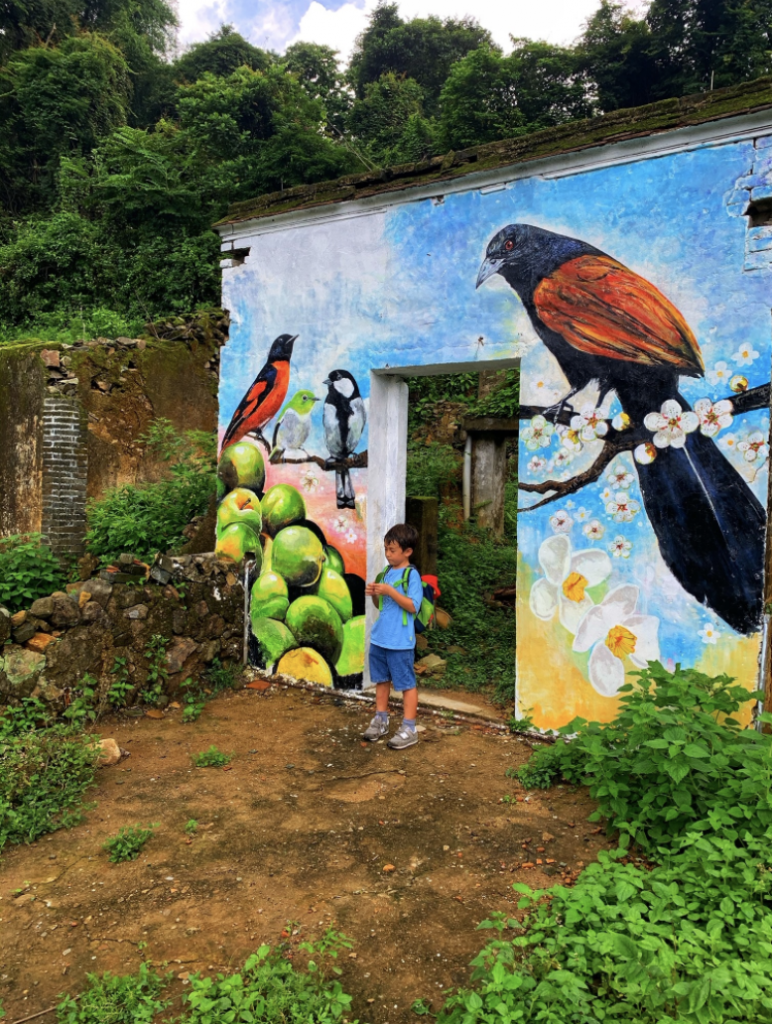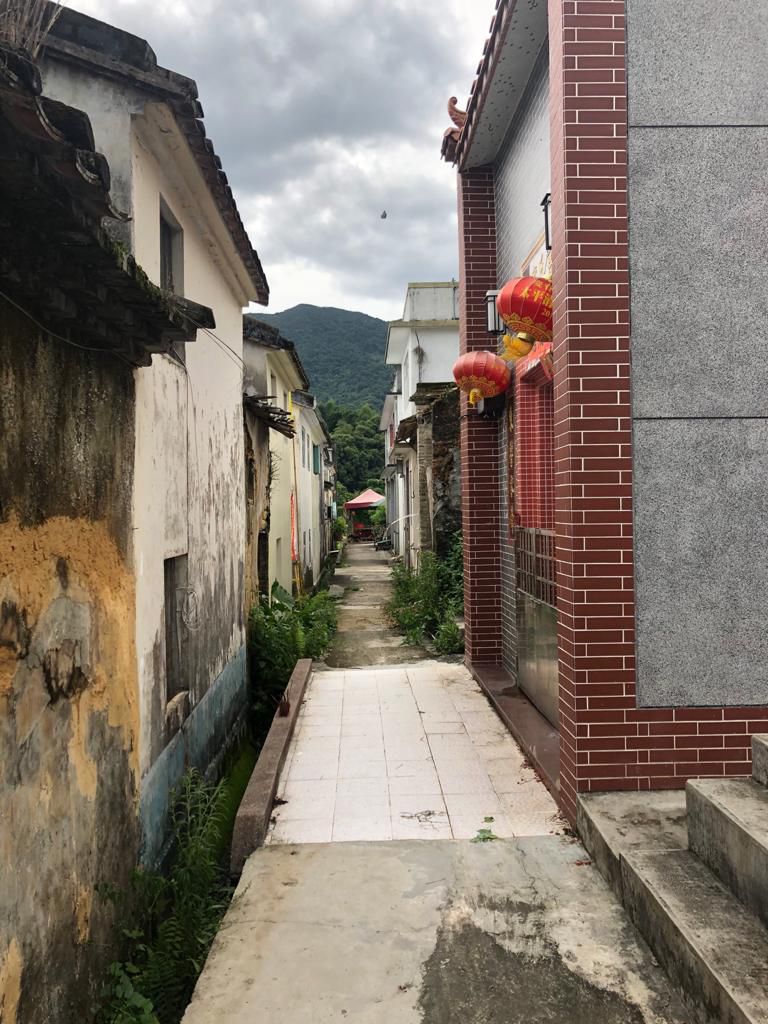 Unfortunately, due to the coronavirus pandemic, a large part of students' education has been put on hold. Teenagers are having to find ways to learn independently, and some may be tempted to look outside, to the nature that is all around us. On August 4th, Encompass HK held a virtual talk led by 17-year old macro photographer, Marco Chan, @That_Bee_Guy, where we learned that Hong Kong has more than 7000 insect and spiders species combined. Marco's passion for Hong Kong's biodiversity exemplifies Encompass HK's commitment to SDG 15: Life on Land, so much so that he now leads night biodiversity tours for Encompass HK. While we're waiting for in person tours to start again, you can view the recap of his talk at https://youtu.be/7JZB1z7fZmM. Marco will be the first to tell you that Hong Kong is perhaps the greatest classroom we have at our fingertips.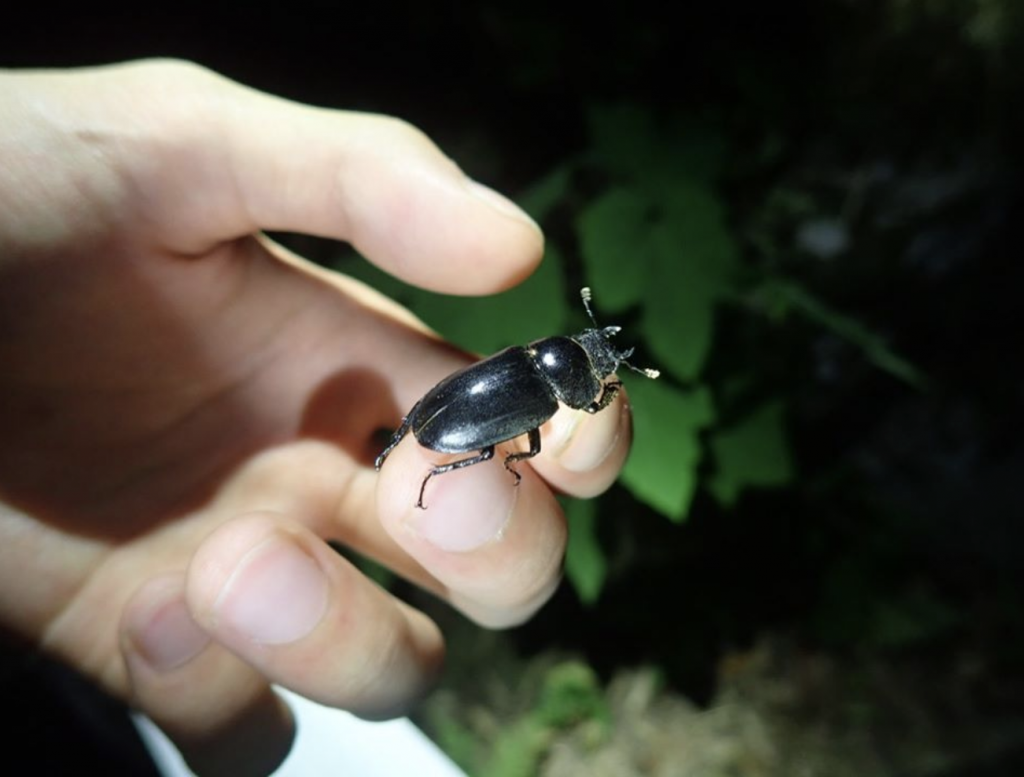 Tung Ping Chau, Lai Chi Wo and Marco's biodiversity tours in Tai Po Kau and Aberdeen Country Park are just a few examples of Encompass HK's eco-tours, which also go to  Hoi Ha, Nine Pin Islands, Yim Tin Tsai and Sharp Island. I had visited Tung Ping Chau with my school a year earlier so I wondered if I had already "done it" all but San really explained the geology of this unique place and wasn't afraid to pick up creepy insects either! If you're still hesitating, Encompass' tours have been covered in SCMP. From local cultures to indigenous biodiversity, I learned there is so much more to Hong Kong than it's urban jungle and can't wait to discover more.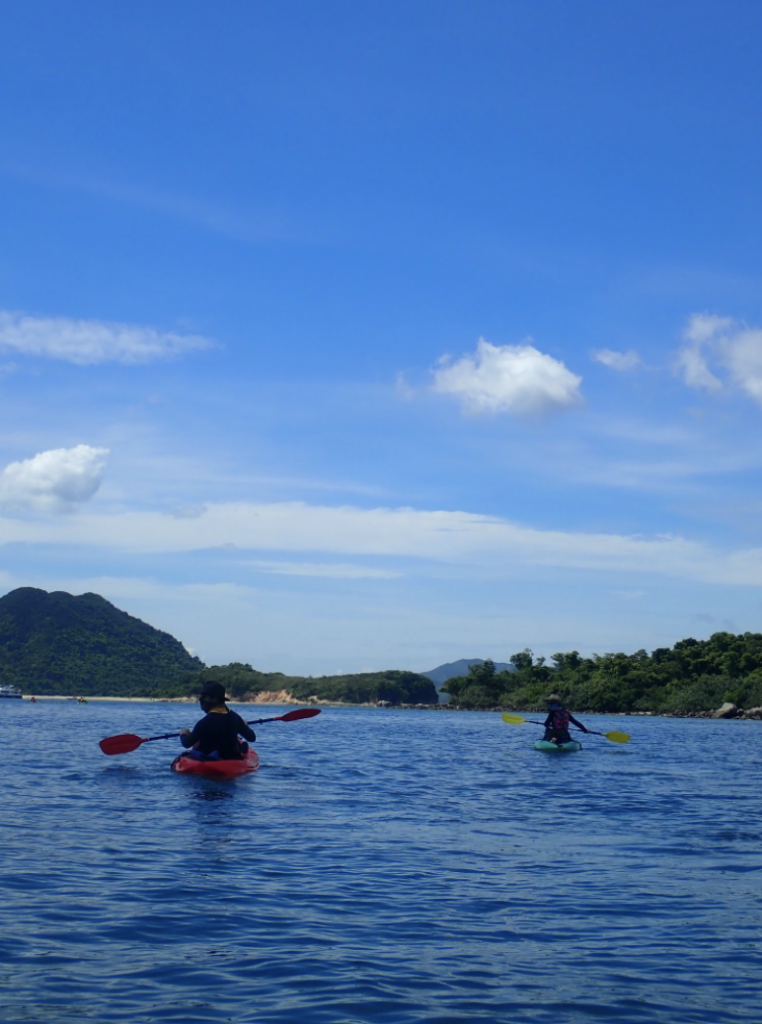 About the author
Myriam Lynch is in Year 11 at Chinese International School. She studies music at APA and loves computer coding, reading, and her pets, Leo (a 1 year old Korean Jindo), and cat Ligabue. She also is passionate about the environment, so after experiencing Encompass HK's ecotours, she volunteered her time this summer, helping at Encompass events and contributing articles to the blog.