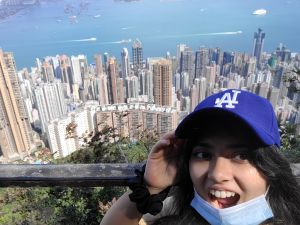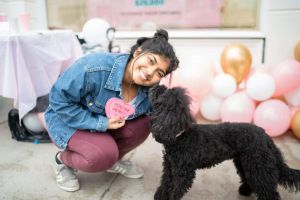 Shivangi Dey Intern
Hi, my name is Shivangi Dey! I am currently a rising junior at HKUST pursuing the World Bachelor in Business degree. At Encompass HK, I am a Sustainability and Business Development Intern.
Before coming to Hong Kong this year, I spent a lot of my childhood growing up in Rochester Hills, Michigan, USA. As I lived there my entire life, I always craved an international experience for college where I could experience different cultures and meet all kinds of people. I am extremely grateful that I can participate in the World Bachelor in Business program that allows me to attend three different universities in three different cities. Hong Kong has been such a wonderful city to me and allowed me to grow and break out of my comfort bubble. Since a young age, I have always been interested in social impact, skiing, dance, and watching horror movies! At HKUST, I was able to join the Women in Business organization and join an amazing community of women.
My journey with Encompass HK began in May 2021 when I came across the Sustainability Intern position through my advisor. I was immediately interested because I wanted to know how Diversity and Inclusion were being incorporated in Hong Kong and how companies here were trying to accomplish their SDG goals. I am really thankful for my experience in Encompass HK because it covered so many different skillsets, clients, and experiences. I was able to research cultural and religious differences, create training materials to engage employees on inclusivity, and develop innovative workshops for employees teaching them about LGBTQ+ awareness just to name a few. One of the most rewarding workshops was doing inclusive classroom training for students and teachers at an international school here in HK. Benita gave me a chance to be a facilitator for the student session and it felt extremely rewarding. Being able to present to such bright young high schoolers about microaggressions, bullying vs. bantering, and calling in vs. calling out made me feel happy that students care about making high school an inclusive and rewarding experience for everyone. Through my internship, it has been amazing to see the diversity and number of companies and organizations that are striving to create a difference for their employees, customers, and on a larger scale the environment.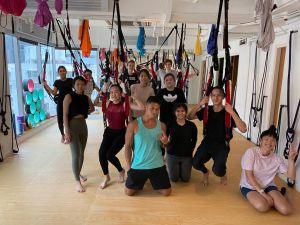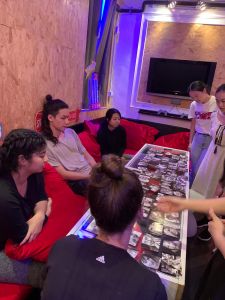 At Encompass HK, I have also been grateful to meet and bond with different interns from all over the world. Recently, we had a team-building day where all of us spent the day getting to know each other on a more personal level. We started the morning off by doing bungee workouts. Although all of us felt the burn, doing the workout together was fun and exhilarating. In the afternoon we went to a party room and let off some steam by playing foosball and MarioKart.
My favorite session was the one that followed after where we did a Points of You exercise that led us to be introspective with ourselves and share what we found to be our strengths, failures, weaknesses, and goals. It was really nice learning what my other colleagues value and what challenges helped shape them into becoming who they are.
Every day in the news, it is easy to feel despair at how the world is currently being overridden with problems. From the impending consequences of climate change to various political unrests riddling various countries, the future sometimes feels bleak or uncertain. However, I have hope that things will get better. Like Encompass HK is striving to make a change in how companies incorporate SDGs and strive to be diverse and inclusive with their employees and customers, I am optimistic that other corporations will keep recognizing the need for social impact and change. As Ban-Ki Moon once said, "Ours can be the first generation to end poverty – and the last generation to address climate change before it is too late". This quote rings true to what I hope I can help achieve to some degree to help the world. Change is happening now and I am excited to see what my generation achieves in our present and future.