---
This is a translation of an "Encouragement and Aspiration: A little game for a big lesson" article published by Jessica Cheng, Assistant General Manager from the LUI Che Woo Prize posted in Headline Daily on September 20th, 2021.
In June 2021, Encompass HK helped to organize a team building experience for the staff of the LUI Che Woo Prize. Our objectives were to let the staff understand more about how their work and connections with their laureates help building a better, more sustainable world. To achieve this objective, we hosted a 2030 SDGs Game to stimulate a real-world experience in working towards sustainability. Below please find a write-up by Jessica Cheng about her experience with the game.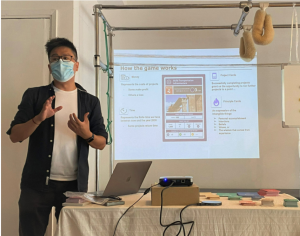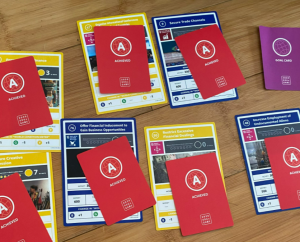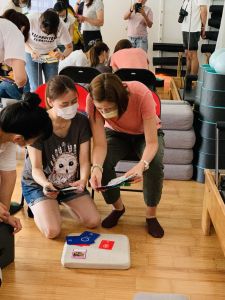 |Under the guidance of the certified 2030 SDGs Game facilitator Kwong Sham, everyone explores ways to accomplish SDGs.|
A little game for a big lesson
If you had the opportunity to determine the future of the world within 30 minutes, what choice would you make? Would you cooperate with others or compete? Would you prefer material or spiritual abundance? It may not be either of them. When "Sustainable Development" comes into discussion, the first thing that pops up in our mind is environmental protection. However, this idea is just part of the story. "Sustainable Development" refers to a development model that can meet the needs of the entire population without compromising the needs of future generations. Therefore, it is not just about shutting down society for conservation, but also about coordinating economic development, social progress, and environmental protection. To this end, both individuals and society now and in the future can achieve substantial and healthy development.
In 2015, the United Nations published "Transforming Our World: The 2030 Agenda for Sustainable Development", which formulated a blueprint for the world's development in the next 15 years. Through adopting 17 "Sustainable Development Goals" (SDGs), including "No Poverty", "Zero Hunger", "Gender Equality", "Climate Action", "Sustainable Cities and Community", it is hoped to achieve shared prosperity for mankind and our planet.
Counting down for the last 10 years, how should we, as individuals, contribute to Sustainable Development Goals? The author has recently joined the three interns of the "LUI Che Woo Prize" to play an interesting card game – "2030 SDGs Game". Players need to perform different tasks to achieve predetermined life goals. These tasks represent possible real-life projects such as increasing the proportion of female parliamentarians and setting up national parks. Players are required to pay proportionate time and money to perform them. Once a project is completed, it will pose a positive or negative impact on the world's three major indicators – economy, society, and environment.
Everyone could hardly wait for the start of the game. Some had to earn money, some had to gain more time, and some had to balance the worlds' economy, society, and environmental indicators before the game ends. Almost each and every one of us sprinted to the "world bank counter" to finish our tasks, aiming at accomplishing our goals as soon as possible.
Soon, we discovered that the resources we held at the very beginning were far from enough to complete our life goals. As a result, everyone took the initiative to negotiate the exchange of resources. Two of our interns, Jenny and Ritika, had free time but lacked money, so it was logical to exchange time for money. Michelle's life goal was to complete 10 environmental protection tasks, but her resources were extremely inadequate. Therefore, she used "economic development" and "social progress" task cards that she didn't need to exchange with others.
The game undoubtedly simplifies reality. It renders people recognize the basic rudiment in the practice of SDGs – cooperation. Michelle has always been concerned about environmental issues, saying that "if everyone continues to overly consume earth's resources, the next generation will not survive." After the SDG game was finished, she discovered that she could not ignore other stakeholders even if she was dedicated to environmental protection. Through cooperation with others and integration of resources, various stakeholders could reach a win-win situation with an elevating efficiency.
How can we work together? Ritika believes that empathy is of utmost importance. There was a player who couldn't bear to watch others failing because of insufficient resources, so she attempted to utilize her resources to complete different projects in exchange for more time and money to assist other players in achieving their targets.
"Everyone needs to play a unique role", Jenny added. No person, organization, or even country can achieve SDGs alone. Instead of working independently, the exchange of ideas, team cooperation and effective utilization of resources are absolutely imperative for the promotion of sustainable development.
We have walked the earth for 10 years within a 30-minute short game. Through scenario simulation, SDGs are no longer a matter of empty slogans or distant targets. Each and every decision of you and I make changes to the future world. Together we can do something for our beautiful Earth