---
This is a translation of an "Multiple Pathways are needed in striving for Sustainable Development Goals 多管齊下推可持續發展目標" article written by Crystal Chan in the Hong Kong Economic Journal on September 24th, 2022.
I have recently participated in a United Nations Sustainable Development Goals workshop, held by Encompass HK. It is pleasing to know that local enterprises are concerned about SDGs, and incorporated them in their business strategies.
Since 2015, the United Nations has adopted 17 Sustainable Development Goals, in the hopes of achieving "No Poverty", "Good Health and Well-being", "Quality Education", "Reduced Inequalities", "Decent Work and Economic Growth" etc., by 2030. These goals contribute to a big picture – to preserve oceans and forests, and tackling climate change. While there are abstract goals that allow us to follow, we would need to concrete steps to accomplish them in everyday life.
Help implementing SDGs workshops for International Enterprises
According to the research published by United Nations' Sustainable Development Solutions Network (SDSN Hong Kong), Hong Kong people have little knowledge of SDGs (e.g., 15% in relative of complete understanding). Given the situation, Benita Chick founded Encompass HK in 2018. She aims to advocate SDGs creatively to different organizations and institutions. Encompass HK provides a wide variety of services, including SDG consultancy and training services, experiential education programs, public workshops, and field trip tours. Through these experiential learning events, students, employees, and business owners can learn and implement SDGs principles in their daily lives and business operations.
From the SDSN Hong Kong report, Benita has noticed that Hong Kong people tend to pay the least attention Goal 12 (Responsible Consumption and Production), compared with the other 16 SDGs. Thus, Benita designed workshops emphasizing in related topics, for instance, Sustainable Coffee Workshop, Sustainable Chocolate and Fair-Trade workshop, in raising awareness in responsible consumption and production.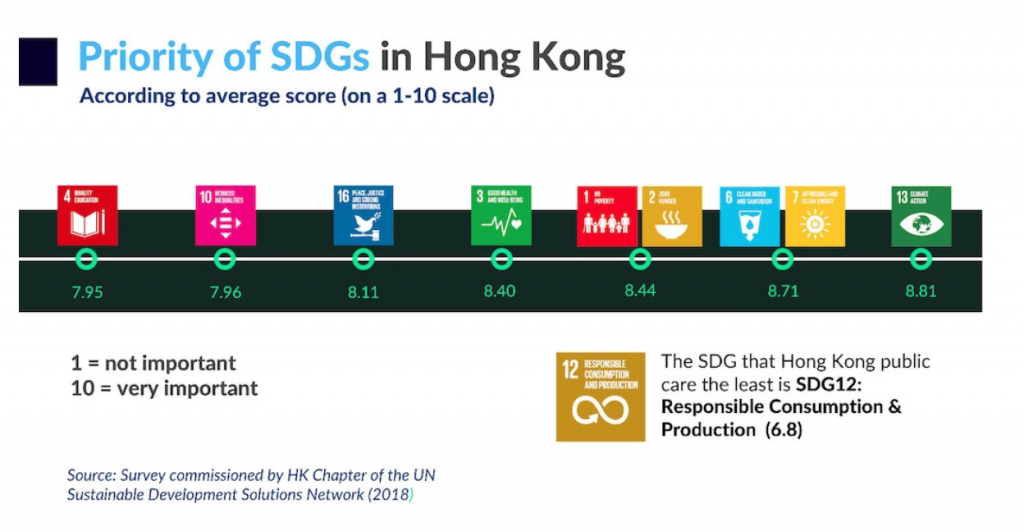 In recent years, many international businesses select relevant goals from the 17 SDGs to prioritize of their business strategies. However, they may not know how to execute their SDG-related business plans in real lives. Therefore, Encompass HK provides tailor-made SDG training to employees in these companies, such as "Climate Change and the Pandemic Workshop" for KPMG and Jardine Matheson, and "Climate Change and Wine" and "Climate Change and Coffee" for Schroders and Yahoo!. Compared with regular teambuilding events (e.g., wine-tasting and latte art workshops), these SDGs trainings are meaningful and educative – it allows participants to understand the inseparable relationship between everyday diets and climate crisis.
On top of that, Encompass HK designs experiential learning projects for the middle-management tier of Swire Properties. The project requires participants to implement a SDGs interactive customer experience plan – creating a SDGs map and food reviews (e.g., similar to Openrice) at a local university. This project incorporates theoretical learning with practical experiences, and it allows participants to learn to implement SDGs in their daily lives through interactive experiences.
Turn Theories into Games: Incorporation to Curriculum Design
Encompass HK often hosts 2030 SDGs Games for employers, professors, and students from different institutions. This game merges the concept of the 17 SDGs into board game cards.
Imitating future possibilities in 2030, players are required to execute economic, promotion, and consumption projects. They start off by setting goals, and are required to prioritize the projects to be executed. Finally, they have to run these projects with limited resources. Occasionally, unforeseen factors happened, and players need to decide whether to solve on their own or cooperate with other players. Does it sound like what we encounter in the real world? Afterall, solving global crises requires everyone to take collective action.
One of the most effective programs is the "Training The Trainers (TTT)". It aims to help university lecturers to deliver the concepts of SDGs in their classes upon the completion of the TTT program. The TTT program helps participants to design informative teaching materials for students to understand SDGs, and implement them in their daily lives.
Compared to universities and international schools, most primary and secondary schools have limited resources to integrate SDGs into their curriculum. Given this situation, Benita's upcoming goal is to design SDG workshops for local schools, including sustainable coffee workshop and fair-trade in education.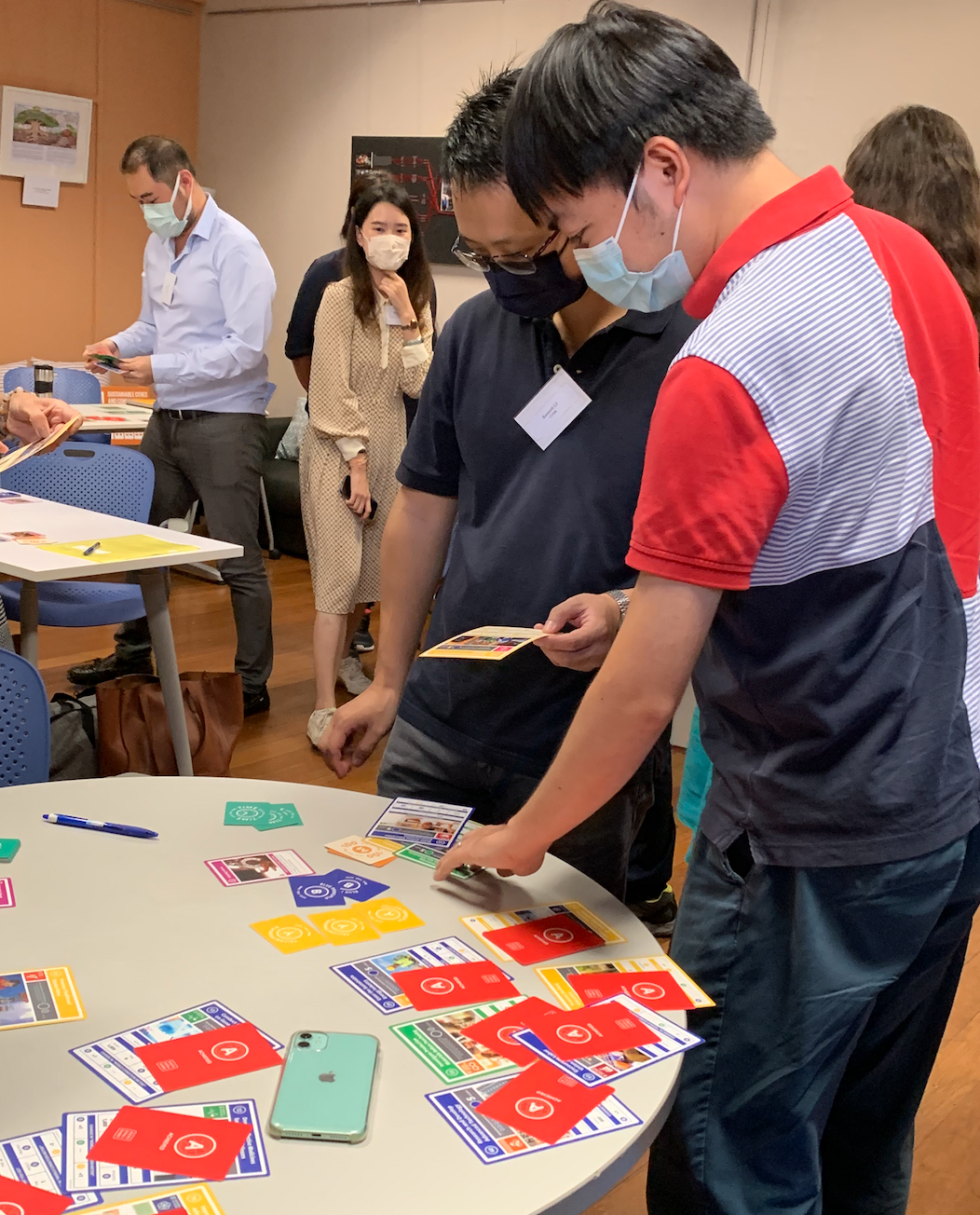 Organizing Summits: Exchanging New Ideas across Sectors
In addition, Encompass HK organizes summits and events related to a specific SDGs goal. For instance, the "Green Women Festival", held in 2019, invited women from different sectors to take part in workshops, talks, booths, and performances – this advocated, shared, and created a green community.
Although it was challenging to organize large-scale events during the pandemic, Benita never gave up. She explored opportunities online and organized virtual events that covered SDG concepts and their execution methods. For instance, TEDxEncompasssHK, held in 2020, invited Lam Chiu Ying, Ex-Director of the Hong Kong Observatory, and other prominent speakers to discuss SDG-related issues. These include Urban Agriculture and Sustainable Fashion. To her surprise, more than 100 thousand people were attending this live event. You may find other recorded events on Encompass HK YouTube Channel, and you are welcome to check them out at your own time.
Furthermore, Encompass HK cooperates with other organizations, such as WWF Hong Kong and Civic Exchange to organize the "Earth Day workshop. Reflecting the essence of SDG Goal 17 – "Partnerships For the Goal", it is hard challenging for Benita to solve global crisis, and this calls to our collective mission – striving together in achieving SDGs by gathering people from different sectors.